Last week there was a festival called Dahi Handi (also known as Krishna Janmashtami) which celebrates the birthday of Krishna, an avatar of the God Vishnu.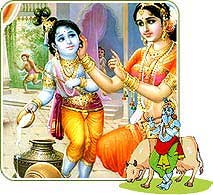 People in the state of Maharashta, where I am now, have the BEST way of celebrating.  There's a legend that says when Krishna was little, he loved buttermilk.  To keep him from drinking it all, his mom would put it in a pot and tie the pot really high up.   So, Krishna got a group of his friends together, made a human pyramid, and broke the pot so they could all share the delicious treat inside.
To commemorate this and to celebrate Krishna's playfulness on Dahi Handi, Maharashtan men tie a pot to a decorated rope really high up, make a human pyranmid (sometimes 8 or 9 tiers high), and the person at the very top (either a kid or a really small guy) breaks the pot with a coconut or some other blunt object.  If he is successful, the pot breaks and the milk pours down on everyone as a celebration of victory through teamwork.  If they don't get it, they only get a few more tries.
Because of the current political tension and recent bomb blasts, most human pyramid locations kept their event times a secret, so I didn't get to see it in person.  My friend and I ran around for like an hour that night trying to find one, but no luck.
Here's a video to give you an idea of what it's like: